RickyRadio
Click a Fett For
a Special Message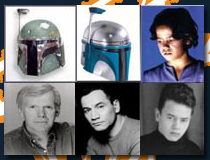 Links
Best Of My Website
Monday, May 02, 2005
If you google my name with quotes, this is the last things that gets a hit. I find it interesting. It's from mobygames.com:

MobyGames Auto-Generated Summary *:
Ricky Borba was credited on a game in 2005. His/Her career probably spans more years than those displayed since these dates are based on the credits documented in MobyGames (which are incomplete). Ricky Borba has been credited with the roles Quality Assurance. Ricky Borba has been credited on games developed by the following companies: Obsidian Entertainment. This does not imply employment by these companies.
Games CreditedStar Wars: Knights of the Old Republic II: The Sith Lords (2005), LucasArts
posted by Ricky @
7:43 PM