RickyRadio
Click a Fett For
a Special Message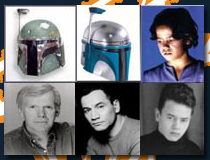 Links
Best Of My Website
Friday, May 20, 2005
The Oakland A's....


Dear Billy Beane,

It's not working. Watching the A's this year, I've come to the realization that I have repeatedly set myself up for dissapointment every year. You came to the Oakland A's organization in 1998 when we flat out stunk it up on the field. In 1997, we finished 65-97. Things could only go up. During the next three years, we went from worst to first. I remember seeing billboards around the bay area whose basic campaign could be summed up in one very clever billboard I saw that year "These guys are so young, they still run to first after being thrown out". It seemed like you knew what you were doing. I was excited to see a bunch of young, unknown guys come up and bring us a Championship or two. Or three. But it never happened. And now, I'm watching a bunch of young-unknown guys again 4 years later, while all of the guys that we watched become all-stars while playing for us, have gone on.

I've told my friends that I think the new Oakland Athletics slogan should be "Thanks for becoming an all-star while playing for us, now get the hell out of here". I haven't read "Moneyball". Nor do I want to. There had to have been a way to keep a few more of our superstars here, rather than running them off for more unknown and unproven talent. Lets just look at a few of the names we've had here the last 4 years, that you decided not to make offers to, or traded away. It's an all-star team in and of itself.

Jason Giambi

1B, MVP.

Miguel Tejada

SS, MVP.

Mark Mulder

P, All-Star.

Tim Hudson

P, All-Star.

Ramon Hernandez

P, All Star.

Johnny Damon

CF, All-Star.

Ray Durham

CF, All-Star. And there are quite a few other guys like

Jose Guillen

and

Mark Bellhorn

that have become stars after they left Oakland.

The guys you've chosen to replace those players with, guys like

Erubiel Durazo

,

Damien Miller

,

Chris Singleton

,

Terrance Long

,

Danny Haren

,

Joe Blanton

, and Kiko Calero haven't exactly been adequate. Having said that,

there is no excuse for letting Miguel Tejada go

. He was an MVP, and more importantly a catalyst for the entire team. He inspired the other players to go all out, put butts in the seats, and rode the team on his back. And now he's arguably the best player in the game. It was a slap in his face to flat out say "We are not going to make him an offer at the end of the year". That was low. I'd rather have one

Miguel Tejada

than an entire team of anyone else we've acquired since he left.

The way you are doing things isn't working. We've have not been out of the first round of the playoffs since you've been here. We didn't make the playoffs last year. Since you let pitching coach Rick Peterson go, our team ERA has gone up every year. Barry Zito hasn't been good since Rick Peterson was here.

Maybe you need to re-evaluate your philosophy. Spend a little more money. Take some financial risks. Go after some big name free agents in the off-season. ANYTHING! I know that the chances you read this are slim to none, but I felt like I needed to get that off my chest.

posted by Ricky @
10:04 PM