RickyRadio
Click a Fett For
a Special Message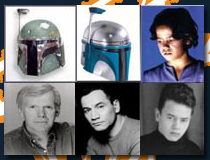 Links
Best Of My Website
Monday, March 27, 2006
There's a new chatbox.



This one should be 100% perfect considering it's the same program that my webcam uses. AND, when you type me a message, I hear a little sound so I know you are talking to me.

Other than that, I should have some pictures of me looking absolutely ridiculous from the tv show filmings the past two days. Seriously, I looked ridiculous. :)

Oh, and the other night we put a flashlight on Nicki's stomach and Kayla followed the light with her head. She was actually moving her head to follow the light.

So before birth, my kid is officially smarter and cooler than your kid.
posted by Ricky @
9:39 PM