RickyRadio
Click a Fett For
a Special Message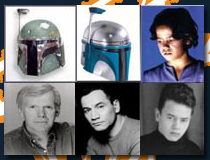 Links
Best Of My Website
Thursday, December 21, 2006
This is pretty much the busiest holiday season for me ever...

Today is December 21st I think. Hold on while I check my phone... Yup. See, I don't even know what the date is anymore. I have been working so much lately, and working after work, and working on the weekends, and being a dad, and etc etc. I'm tired. Run down. Beat. Exhausted. Drained. I've done about 2 hours of Christmas shopping total. (Thank God for the ability to shop on the internet 24/7, or I would be

really

screwed) Tomorrow I'm spending the entire day shopping with Mike Ward and Dan Weinmann. The only reason I put their last names is because I know a few of my old high school buddies read my website and I didn't want them wondering if that's indeed who (whom?) I meant.

I hope that tomorrow gets me in the spirit of Christmas. But that's my entire point. What exactly

is

the spirit of Christmas anymore anyway? Sure I can give you the canned Christian answer I've been taught, and that I try to live, which is the birth of Jesus, and the celebration of that event. But lets face it, it's really become something very different altogether. When people are waiting in line for weeks to buy a Playstation 3, only to sell it at triple the cost on Ebay (ha ha suckers, you can't

give

those things away right now) along with stories of people getting mugged in mall parking lots and things like that, you really have to wonder what exactly it is we're celebrating? I can honestly say that I've been so busy lately that I haven't had time to go pee in peace and quiet, let alone truly sit down and contemplate the fact that this is the celebration of my Lord and Savior's birth. (albeit scholars say his birth was more likely in the Summer, than in December) I'm just as guilty as anyone, for getting involved in the hustle and bustle of the of Christmas, the shopping, the planning of which family members to see at what time, making sure I had enough vacation saved up to take the next 12 days off, etc etc. (By the way a song called "Dirge" by "Death in Vegas" just came on. If you haven't heard it, I suggest you download it)

Nicki was supposed to have started working as a Chiropractor in her own office in October, with a secured salary and plenty of other sweet perks. Unfortunately that deal fell through at literally the 11th hour, and Nicki has not been able to find a job since. She's going to start looking again after New Years, so if you're the praying type, please pray that she finds something immediate, and in a place that she will love going to every morning. (go ahead, be specific with your prayers, it works) My point for bringing this up is that it is

so

easy to let yourself get caught up in the fact that you "don't have enough money" for Christmas, or that "I wish I could get that one thing, but I can't afford it" mindset. When the truth is, is that really, none of that matters at all. When you die, you don't get to take anything with you, so I'm trying to train my mind into the mindset that I need not be worrying about such things anymore. But you know what? It's hard. Damn hard. I really wanted an HD TV for Christmas, and I'm just going to say that I'm 99.9% sure that I'm not getting one. Oh well, time to start making a list for next years Christmas, right?

posted by Ricky @
8:38 PM