RickyRadio
Click a Fett For
a Special Message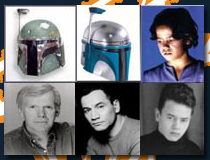 Links
Best Of My Website
Saturday, May 21, 2005
Has it ever occured to you......


That everyone thinks their kids/grandkids are the smartest and the cutest? Everytime I hear some parent or grandparent talk about their kid, it's always "They are sooooooooo smart for their age", or "I'm not saying this because I'm the parent/grandparent, but he/she is practically the cutest kid I've ever seen."

KNOCK IT OFF PEOPLE! No, they aren't the

smartest,

or the

cutest

. The only person I would even consider hearing their opinion on that subject would be a pre-school teacher or someone like that who sees a lot of different children everyday. Please put a stop to it already. It sickens me.

I happen to know all of this because I actually

am

the smartest and cutest. Go ask my mom if you don't believe me.

posted by Ricky @
2:47 PM