The reason for my webcam...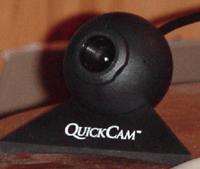 I guess it's just because when I first started using the internet way back in 1995, I was fascinated with all of the cool things you could do. Especially the Jennicam. I think she had like 5 or 6 different cameras in her house, and you could watch her eat, sleep, watch tv, etc etc. I used to have an old quickcam back in 95', and I'd s
end little pictures to girls I would meet on AOL. So nowadays I thought it'd be cool if I put one up at my desk, so people would feel like it's a more personal experience when visiting my website. I l
ike getting emails from friends saying things like "WTF are you laughing at right now?" I also like making people hot and bothered when I take my shirt off. No Antonio No!! It's too sexy!!

P.S. Kudos to Marla Bean, who ALWAYS leaves comments. That's what the link is there for people, to leave me little messages and trinkets and what nots. Marla Bean is my current favorite person ever.

P.P.S. I want to give myself some props too. Because for being the "pretty boy" that I am, I do appear on the cam without looking my best quite often. You know, like right when I get up in the morning, without having done my hair, shirtless. So consider yourselves priviledged, not many people know "that" Ricky Borba.