RickyRadio
Click a Fett For
a Special Message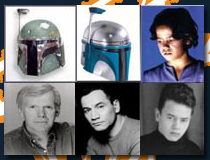 Links
Best Of My Website
Thursday, September 15, 2005
10 things about finding out you're going to be a father........


1. You fall more in love with your wife that very second.
2. The sky is bluer than it ever has been.
3. The grass is greener than it ever has been.
4. Music sounds better.
5. Things look better.
6. You say you're going to stop cussing. Then you say a cuss word like 20 minutes later because you're so f***ing excited.
7. You want your newborn to come out of the womb as a ninja, so you are going to play audio from Jet Li movies on your wife's stomach.
8. You star rubbing your wife's stomach like shes buddha. You keep asking her things like "Are you sure my little guy is in there?!"
9. You want to go home and clean everything with bleach and make sure everything is in order.
10. You promise to give up cocaine and hooking on the weekends.
posted by Ricky @
4:34 PM