RickyRadio
Click a Fett For
a Special Message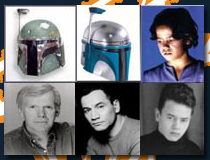 Links
Best Of My Website
Sunday, April 02, 2006
Recent movies I've watched and brief reviews:

Fun With Dick and Jane: Not so fun. Boring and predictable.

Scarface: Can't understand why people love this film so much. The editing was horrible, the music was completely out of place and sounded like it was made on a casio keyboard. Bad film.

Stay: Didn't do a very good job of explaining what the hell was going on. Had to look up the movie on IMDB after it was over just to get my story straight.

Jarhead: This movie didn't know what it wanted to be. Documentaryish, Drama, etc etc. It just felt all over the place.

V for Vendetta: Pretty good. Although it was kind of slow in the middle.

posted by Ricky @
10:25 PM