RickyRadio
Click a Fett For
a Special Message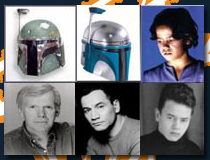 Links
Best Of My Website
Saturday, September 30, 2006

I have to hand it to the A's.

Last off season, they fired Ken Macha, paid an enormous amount of money for Esteban Loiaza, signed a problematic right fielder in Milton Bradley, and brought in often hurt former MVP Frank Thomas, who is in the twilight of his career. Two months into the season, it looked like a disaster zone. I think Frank Thomas was hitting about .180, Esteban Loiaza was on the disabled list after going 0-3 with a +10 earned run average, Eric Chavez, the A's best player was hurting, batting around .220, and Ken Macha, they manager they fired in the off season, was back at the helm. I was disconnected, to say the least.

Halfway through the season, they were playing about .500 baseball when the trade deadline rolled around. Every year for the past 5 years Billy Beane had made some sort of trade to better the club, usually a borderline blockbuster trade. But not this year. No trade at the deadline. He was happy with the .500 ballclub he saw on the field. Then around the end of July, the A's started gelling. They made their traditional second-half run, and now find themselves winners of the AL West. The first playoff game is Tuesday, and I'm hoping it's against the Tigers.

Baseball is a very long season. It starts in April and ends in October, and the teams practically play everyday. It's hard to keep up with everything during a normal year, let alone a year in which the most perfect little angel is born on May 19th. I'm glad the A's are in the playoffs, and I really think they have a chance to do something they haven't done since the mid 90's, and thats make it out of the first round of the playoffs.

LETS GO OAKLAND!

P.S. I love the 49ers and A's. And I HATE the Giants and the Raiders. Go figure.

posted by Ricky @
7:48 PM