RickyRadio
Click a Fett For
a Special Message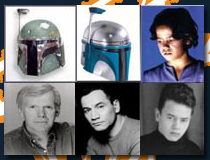 Links
Best Of My Website
Tuesday, September 19, 2006
I'm a little upset right now, please help if you can.

The day I found out Nicki was pregnant, I started writing letters to Kayla. I wrote 5 in all. The first 2 were to my new baby that was on the way (since we didn't know Kayla's sex yet) and the last 3 letters were to Kayla. I wrote one letter every other month, and planned on giving them to her on her 16th birthday. Well, now I can't, because they're gone. I have no idea how they were deleted off of my computer, and no idea when either. But they were most certainly accidentally deleted somehow. I'm sure there are other documents that are missing too, but those 5 letters are the only ones I'm concerned about. I've used 3 different file recovery programs and I've searched my computer for every .doc file on it. They are gone.

So, do any of you know of any super duper file recovery program? Or how to recover files from a hard drive? Any help would be appreciated. Thanks.

posted by Ricky @
8:37 AM