RickyRadio
Click a Fett For
a Special Message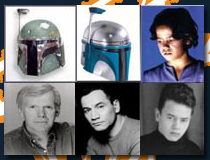 Links
Best Of My Website
Sunday, November 12, 2006
Dear Tommy Ascencio,



I know you come to my website. So I know you'll read this.

The Lions suck. They always

have

sucked. They

do

suck. And they always

will

suck. The 49ers may have gone through a few years of "growing pains" recently, but as you can tell after we whipped your Lions today,(by the way, Frank Gore would have went well over 200 yards rushing if he didn't sit out the 2nd half) that we are definitely headed in the right direction, and your Lions are doomed to failure yet again this year, and the next, and the next, etc etc. Why don't you guys draft another wide receieve in the draft this year? That plan has

really

worked for the Lions. Oh, and where is your boy Joey Harrington? Gone. He's horrible, and he's stinking it up in Miami now too. Anyone that was ever a Detroit Lion can't get rid of the stink once they leave. Or once they're cut, as the case may be. Just be happy that the city of Detroit can

host

a Super Bowl. Because the lions will

never

be in one.
posted by Ricky @
5:42 PM