RickyRadio
Click a Fett For
a Special Message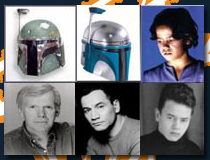 Links
Best Of My Website
Wednesday, November 22, 2006
Download this clip first, before you read this post......
So now that you know how 2Pac says "Streets of L.A." my post will be more fun to read.

I've been gone for about 5 days....

Saturday I went down to Long Beach for training on some software I use at work. The name of the program is irrelevant, but if you're really that curious, it's called Mapinfo Anysite. Go look it up. So the story goes like this: I was supposed to go

this

Saturday, so I could see the Prodigy in concert in Long Beach. (Don't worry, I'm still seeing them in San Francisco, but I was going to see them the very next day) Anyway, training got pushed forward a week, so I had to change my flights and hotel, which meant I was basically going to Long Beach on Saturday without anything to do now. My new/old friend Dana was kind enough to pick me up from the Airport and shuttle me around town Saturday and Sunday. I had nothing else to do and didn't know anyone, so I really played up the "woe is me" card. I think it worked because she paid for one of my meals. :) And, I murdered one of her stuffed animals. But if you see Dana, don't ask her about it, as it was very traumatic.

So back to the title of my post, the streets of L.A. portion. While there, I went to the mall with my co-worker that flew in Sunday night. We went to this really uppity mall of which the name of this mall eludes me right now. Wait, to back up a second, on my flight down to Long Beach, the airport security people made me throw away my toothpaste, razor, and shaving cream. So while at this mall, I was looking for a little Walgreens or some store like that to purchase said items. This mall didn't even have a Target. I was S.O.L. So I ran across the street to the CSV pharmacy to purchase my toiletries. And on my way out, while I was running on "the streets of L.A." I mis-judged the curb height, and tweaked my ankle. So, I got hurt on "the streets of L.A.". It was awesome. I got hurt on the very same streets that Eazy-E, Dre, Tupac, Snoop, and a host of other Rappers that I like, grew up and got hurt on

themselves.



My ankle is fine now, and I'm ready to become the M.V.P. of the Turkey Bowl tomorrow. I think I'll dedicate my trophy and performance to overcoming the pain I experienced on "the streets of L.A."

posted by Ricky @
5:08 PM