RickyRadio
Click a Fett For
a Special Message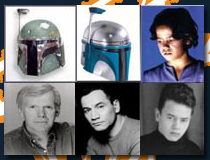 Links
Best Of My Website
Wednesday, February 21, 2007
Sometimes....

You just have to throw caution to the wind. Today I saw a REALLY sweet job posting. I'm not looking for a new job. I like Pump It Up. It's a steady paycheck, the people I work with are a lot of fun to be around, and have taught me a lot. But, when you see a job posting like that, that is RIGHT up your alley, and something you could honestly see yourself doing for a very long time, and at the same time be more than thrilled to do it, you

owe it

to yourself to give yourself a chance. The thing is, I'm not

hoping

that I'll be good enough for them to notice. I know I'm good enough to do that job. I submitted 3 of my best writing samples from this website. This one, this one, and this one. The only thing I'm hoping, is that my application doesn't get lost in the crowd with all of the other ones. I'm hoping they really do go through each and every one of them.

In other news, and farbeit more important news, we are 7 weeks along into pregnancy #2. Our due date as of right now is October 8th. I think we're having a boy.

Oh, and I started swimming again. Waking up at 5:50 five days a week isn't so great. Smelling like chlorine the rest of the day

after

swimming isn't so great. My hair becoming coarse and unmanageable because of the chlorine isn't so great. But in about 2 months, the way I'll feel and how my body will be looking will be so great I'll have to watch one of these movies just to level it out.

posted by Ricky @
7:25 PM