RickyRadio
Click a Fett For
a Special Message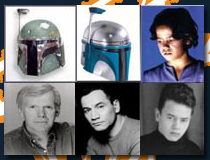 Links
Best Of My Website
Wednesday, January 31, 2007
I sleep naked.

It's important you know that, going into this story. Last night around 1am, I was fast asleep. In fact, I was having a cool dream about driving to my friends house with Jay-Z. Anyway, moments later I'm awaken to hearing Nicki saying "Oh shit"! I open my eyes and see our closet door slowly opening. At this point I was still a little out of it, but then it started opening faster. So I threw my covers off, and jumped out of bed in my birthday suit

looking for a fight.

Turns out, it was just our dog, who somehow made his way into our closet, and was trying to get out. Point is people, that I'm really tough. I jumped out of my bed naked, at 1 in the morning for (what I thought) was going to be me vs. some intruder. I had so much adrenaline running through my veins after all of this, that I got up, checked on Kayla, got something to drink, drained my

main vein

, and checked my email.

It's comforting to know I'm a tough guy. And make no mistake, it's NO coincidence that I'm listening to my internet radio station and it's playing "Mama Said Knock You Out" by LL Cool J right now. Seriously. I didn't even tell it to play that song. Affirmation people. Affirmation.

I gotta thank God. Cause he gave me the skills to rock HARD.
posted by Ricky @
7:57 AM