RickyRadio
Click a Fett For
a Special Message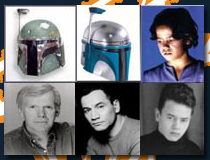 Links
Best Of My Website
Saturday, March 03, 2007


I watched Zodiac tonight with my friend Mike Ward of Mission San Jose High School class of 96'. I've been interested in the Zodiac killer ever since I can remember, as well as the Night Stalker and other serial killers. I remember this book on shelves when I was a kid. I think I remember looking at the pictures from the middle of the book, specifically. It's no secret that I hate to read, so that makes sense.

It's fascinating to me that someone could take someone else's life, especially multiple lives. I don't know why, but I've always been intrigued by serial killers. But I think the Zodiac is more intriguing to me because he killed people here in the bay area. The movie was good, but since the outcome of the case in real life has never been solved, the movie left me with that same sense of non-finality. They do make it clear on who they thought the Zodiac killer was, but it's not definite.

Anyway, after the movie, Mike and I drove to the corner of Washington and Cherry street in San Francisco, the site where Paul Stein was murdered after he drove the Zodiac killer in his cab. It was REALLY strange being at that location because we had just seen it in the movie, but it was even more eerie because of the fact that that crime actually did happen there. I wanted to take a picture of me standing where the cab was, but Mike said it would have "been dumb", so I didn't.

By the way, I'm posting this from bed, using the laptop. I'm going to watch SNL now. Bye.
posted by Ricky @
11:22 PM