RickyRadio
Click a Fett For
a Special Message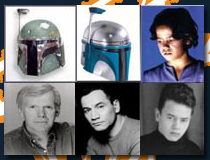 Links
Best Of My Website
Wednesday, April 11, 2007
I need to clone myself.



You ever feel like there is so much to get done during a day, and you just don't have the time to do it? I get up at 5:45 every day, during the week. And by the time I get home finish with whatever needs to get done around the house and then dinner, it's at least 7pm already. Kayla usually goes to sleep around 7:30 and then I watch tv for a couple of hours and go to bed. I don't know, but that sounds a little

off

to me. Isn't the most important thing in life your family? The amount of time spent at work, and driving to and from work, is considerably more compared to the time you get to spend with your family and doing things you enjoy.

At our office, our receptionist lived in New Zealand for 23 years and said that we Americans are ridiculous with the amount of hours we work, and demand we put on ourselves in terms of careers. Maybe I should have been a teacher, so I could get 3 months off in the summer, and a few weeks here and there during the school year for Christmas and Easter break. Lately my company has been steadily removing "perks" from the office. Without going into all of them, my point is this: that sort of philosophy is ass backwards to me. Instead of removing perks, and enjoyable things around the office, companies (like google and Ebay) should be making the workplace somewhere you actually

want

to spend time at. When you take away things that people enjoy, it has an extremely negative effect on not only the employee personally, but as a group as well.

Back to the cloning thing, I just wish I had more time to do the things I love. I'd send my clone to Pump It Up so I could make videos and things like that all day.
posted by Ricky @
9:48 AM