RickyRadio
Click a Fett For
a Special Message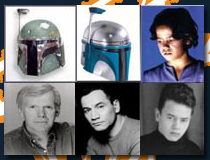 Links
Best Of My Website
Thursday, June 14, 2007
I seriously hate....

Those internet advertisements that take over the whole web page. You know the ones. Where you're browsing along, and all of a sudden your whole page turns into an ad for Fantastic Four, or Cialis, or Goodyear tires. The ones that have the SUPER tiny "close" box hidden somewhere in it. Man those things are REALLY annoying. A lot of them have sound too. So not only are you

bombarded

with an intrusive ad, you also have to hear someone telling you "Congratulations. You've been chosen to receive a free IPod Video!" And by the way, that's a lie. You were never chosen. It's all just a ploy. Anyway, a website I go to often, rottentomatoes.com had a top 100 movies derived from comic books. EVERY single page (100 of them) had a 10 second advertisement for the Matrix Trilogy High Def DVD's. Seriously. Every page. I had to sit there and watch the Ad, 100 times. And no, I'm not going to tell you what movie was number 1. You're going to have to go through the same agony as me to find out.

posted by Ricky @
11:48 AM