RickyRadio
Click a Fett For
a Special Message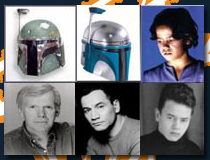 Links
Best Of My Website
Sunday, September 23, 2007
My new favorite thing to do on Earth...

Is drive in the car with Kayla. You might be asking yourself why. Well, it's because she FINALLY sits in a forward facing car seat. With Brielle just moments away, we put Kayla's new car seat in the rear passenger side seat. (So Brielle can have her car seat in the middle) That way, when I'm driving, all I have to do is look over my right shoulder to see her. It's like a dream come true. I love rolling the window down and watching the wind blow her soft, bright, 16-month old blonde hair. And since facing forward is completely new to her, so is sitting near a window. It's like she's seeing everything in the world for the first time. She gets so excited when she sees people walking their dogs, other cars, and buildings zoom by her. Sometimes she'll yell "DADA!" because she wants me to see what she's seeing. The words I'm writing here cannot describe how absolutely wonderful it is to finally be able to see her when i drive. She already knows what "Do you want to go for a drive?" means. She gets really excited and does a little feet stomp because she can't contain her emotions when I ask her. All in all, she's pretty perfect.

My team may have not won in flag football on Saturday. And I certainly didn't have my best game. But I didn't suck anywhere NEAR as bad as Rex Grossman.



posted by Ricky @
7:50 PM