RickyRadio
Click a Fett For
a Special Message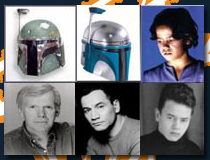 Links
Best Of My Website
Friday, August 29, 2008
What a week what a week.



Whew. It's 11:15 on Friday morning. It's been a while since I've had to do anything other than take care of my two girls. So getting up at 6:30 am is definitely not something I'm used to. Don't worry, though, everything is going to be ok.

School is a huge blessing. I'm so lucky to have God in my life, and for him to have provided the way for me to go to William Jessup. It was very surreal for me to walk into class again, 5 years removed from art school, and 10 years removed from junior college. Not only that, but in case you hadn't noticed, I'd sworn off school forever at one point.

Wednesday morning my first class was Western Civilization I. Not exactly my favorite subject, but going to a Christian school means that every course taught will incorporate a Biblical perspective on the subject. Which for me, is exactly what I want.

From there, I go to The Gospel of John class. Awesome. Yeah, I said awesome. In the 75 minutes I sat in the class, I learned more about that book than I'd learned in my entire life. I love that class.

After that, I go to my church administration class. It's normally a class seniors take in their last semester (seniors majoring in the Pastoral route), so I'm not exactly sure why I'm in the class. But it's good. There's only 6 guys in it, and we meet in a room smaller than my bathroom. Truth be told, I hope I don't forget what I learn in this class over the next 3 years. I kind of do wish I took it as a senior.

Thursday morning I started off with Christian Foundations I. It's my biggest class, and meets in a lecture hall. Which means everyone is too afraid to speak and spark discussions. That's fine though, because the point of the class is to go through the entire Old Testament of the Bible. Again, I'm excited about it because that's exactly what's been lacking in my life. I've always had the heart for my Christianity but have struggled at times with the history and head knowledge.

My second class is Spiritual Dimensions of Leadership. and it's interesting. Since everything is Biblically based, it was (sorry for the redundant word here) interesting to see everyone in the class divided on certain issues. Very intriguing. I'm up in the air about this class, reserving judgment.

And finally, my favorite class this semester is my last class on Tuesdays and Thursdays, Developmental Psychology. The teacher is probably the reason why I will love this class above all others, but I also love the subject material as well. In fact, they may start a Pastoral/Psych major next year, and I would strongly consider switching. I love learning about the human condition, and why we do what we do and are who we are. I'm a Sanguine, through and through. And more specifically, an ENFJ. Just like Barack Obama, which made me want to slit my wrists when I found out. Anway, very intersesting stuff, and the teacher has a great personality and makes it worth paying attention to.

Tuesdays and Thursdays we attend what is basically the equivalent to Church, but we call it Chapel. All students have to attend. The theme this year is "Well Balanced", a creed I will definitely need to absorb as I begin to try and balance being a father, husband, friend and student.

(And now a few hours later I'm adding this)

Fill this out about your SENIOR year of high school! The longer ago it was, the more fun the answers will be!! REPOST with name of high school and graduating year. (I didn't write that part)

Did you marry someone from your high school?
No. (That was Spanish, btw)

Did you car pool to school?
With my brother on occasion.

What kind of car did you have?
A 1977 Camaro and a 1989 Pontiac 6000 STE

What kind of car do you have now?
2004 Toyota 4Runner and a 1998 Ford Taurus GL (Which stands for GOOD LUCK, considering all the problems it's had)

It's Monday night...where were you?
Young Life at 7:44

It's Monday night..where are you now?
Watching Monday Night Football and doing homework.

What kind of job did you have in high school?
Macy's, Cinedome Theaters, Stuft Pizza

What do you do now?
Going to school to become a pastor after years of working in the "real world".

Were you a party animal?
No. But I went to a lot of parties?

Were you considered a flirt?
Mos Def

Were you in band, orchestra, or choir?
If making out with girls was considered "band, orchestra or choir" then you could have called me the maestro.

Did you get suspended/expelled?
Yes. Once for shoving Kelly Voeltz in the pool while she was fully dressed, and once for refusing to turn over my PAGER.

Can you sing the fight song?
I don't think Mission San Jose has a fight song. And if they did, Phil Richards probably beat it up.

Who was/were your favorite teacher(s)?
I didn't really have a favorite high school teacher. Although, I did enjoy making out.

Where did you sit during lunch?
The quad.

What was your school's full name?
Mission San Jose Elementary High School For Kids Who Can't Read Good

When did you graduate?
1996

What was your school mascot?
A mountain. That was a "Warrior". I'm not kidding.

If you could go back and do it again, would you?
Yes, but I would definitely make out with more girls.

What do you remember most about graduation?
That I wished I had worn no pants underneath my gown.

Did you have fun at Prom?
Yes. I went with Jordana and we had fun. No, not like that. But we did make out.

Do you still talk to the person you went to Prom with?
Yeah. We never talk though. She is on my friends list, but I don't think she's checked her profile in 9 years.

Are you planning on going to your 10 year reunion?
We didn't really have one. About 25 people showed up at some bar in SF, and that was our "reunion'.

Do you still talk to people from school?
Yes, quite a few.
posted by Ricky @
11:16 AM