RickyRadio
Click a Fett For
a Special Message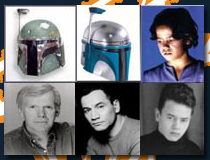 Links
Best Of My Website
Friday, August 22, 2008
My review of "Prom Night".

(Or, what I learned from watching Prom Night)

Occasionally, I will break, and allow Nicki to turn our movie night (which is normally I movie I choose) into her choice. Now before you go and get all "wow, you're SUCH a nice guy. cough cough JERK." on me, you have to realize that Nicki's taste in movies is horrible. Her favorite movie is Titanic. Need I say more? She also loves horror movies. And occasionally I will see a preview for a horror movie that I think looks alright. Such was the case with Prom Night. And please, I said ALRIGHT, not great. Here's the trailer:



After watching this movie, which is now in a tie for the worst movie I've ever seen with "The Happening", I learned quite a few things. Here goes.

1. If a psychotic killer that murdered your entire family escapes from prison, the SAFEST place for the police to take you to keep an eye on you is your house.

2. Donna likes to spend a lot of money on her hair for prom to get nothing done to it.

3. If you murder someone by stabbing them 6 times, then drag them on your hotel room floor, onto your bed, then stuff them in the ceiling vent, you will NOT get any blood anywhere.

4. If you're in the running for Prom King and Queen, and you give a huge speech about how much you're both excited, nervous and anxious to see if you've won, then you will go up to your hotel room 5 minutes before the announcement and spend the rest of the night up there.

5. As soon as you turn, murderers will hide in your blind spot.

6. Elevators and escalators do not stop running when the fire alarm is pulled and sounding.

7. If you're the police office guarding the house of the target, everything is A-OK as long as her bedroom light is on.

8. Police will use a 4 year old photo of the escaped convict, as the faxed bulletin sent out to other police stations instead of using the most recent picture they were just looking at from the prison he broke out of.

9. High school's nowadays only assign one faculty member to cover the entire prom.

10. The media will be at the entrance of the hotel where your prom is at, to interview and take pictures of the high school students before they enter.

11. Sometimes Principals are also P.E. teachers.

12. The best way to tell your best friend that they're girlfriend is dead is to tell them, then immediately walk away and let them deal with it.

13. If you're hiding under the bed 4 feet from your mother and watching her get murdered, the best thing to do is cover your mouth so you don't scream.

14. More than 75% of SWAT team members have mustaches.

15. Even if the SWAT team has a master key for the entire hotel, they prefer to bust down doors instead, for dramatic effect.

16. Floors that are under construction will not blocker or boarded off. You will be able to access them with ease.

17. If you want to escape from a maximum security prison, all you have to do is go through the vents.

18. Prom is the best time in everyone's life.

19. There are no more ugly people in high school.

20. Being Prom Queen is the most important thing in life.

21. Black baseball caps do not make you look suspicious.

22. Only 3 people work one shift at a gigantic hotel.

23. If an escaped serial killer's car is found in the parking lot of the hotel where his target is having her prom, don't tell her because it might "ruin her prom".

In conclusion, Prom Night was a waste of time, and had nothing unique, new, exciting or interesting about it. I am now dumber for having watched it.
posted by Ricky @
5:38 PM