RickyRadio
Click a Fett For
a Special Message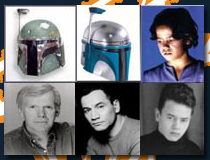 Links
Best Of My Website
Monday, February 16, 2009
Dear Waitress at Tahoe Joes, I'm not sure I liked your tone...



Tonight Nicki and I went out to dinner with some friends of ours from the bay area, that are contemplating moving to Lincoln/Roseville. Nicki and I had spent the entire day cleaning, so by the time they arrived at 5pm, it was a welcome break. After chatting for a bit in our house, we all piled in the car and headed to "Tahoe Joes" (because the Cheesecake there is better than making love to my wife while simultaneously winning the lottery as Tony Bennett seranades us). After having some more chit chat, TJ informed us that Sandy's work was paying for the dinner, as part of their effor to woo her and TJ out to Roseville. (Her work gave her the company credit card for the weekend and told her to eat, drink and be merry). After hearing the wonderful news that dinner at an expensive restaurant was going to be free, I proceeded to order the most expensive item on the menu. Seriously. It's called the Tahoe T-Bone, and it's half New York Strip and half Filet Mignon. (I didn't know such deliciousness was even possible, but apparently some scientists figured out how to have two completely different steaks on the same cut, separated by a bone).

Fast forward to about 3/4 of the way through the meal, and I'm cutting one of the last bites of New York Strip from the bone. I dip it in ranch dressing (because really, who doesn't dip their steak in ranch?) and proceed to bite down on what I assumed was going to be a tender, juicy morsel of steak. What I got instead was a shard of bone stuck to the roof of my mouth, in-between upper anterior numbers 10 and 11. Instant blood, and it hurt. So I think I yelped in some sort of sissy manner, then grabbed the cloth napkin on my lap and began to treat the wound. Just then, the waiter came by, so I took the white, blood-stained napkin out of my mouth and asked him for some warm salt water, so I could take it to the bathroom and gargle with it. He looked perplexed, so I explained that thanks to the Tahoe T-Bone, I had an open wound in my mouth and it needed treatment immediately before I would die from dysentery. Moments later, he brought out a piping-hot, calistoga hot springsesque glass of salt water.

I got up, holding my volcanic temperatured glass of salt water, burning my hands deeper with each passing second, and headed toward the bathroom. As I turned the corner, a waitress whom I could only imagine had been watching me carry the glass from my table, literally jumped in front of me and said: "Where are you

going

with that?" (Raise your inflection on "going", as to make it seem like I was mentally retarded in the way you ask). I had to stop, swallow the blood saliva that I was

planning on

spitting out once I got to the bathroom, and reply with "I took a bite of steak and a shard of bone got stuck on the roof of my mouth. I'm going to go rinse with this now". To which she replied, "Ohhhhhhhhh, I'm sooooo sorry!".

As I rinsed and spit in the bathroom, I started thinking about what exactly she may have thought I was going to do with that scalding hot glass of salt water. I guess it was a fair question, but I didn't understand why she asked me in the manner she did. It's not like I was shirtless, carrying a dead squirrel to the bathroom.

Anyway.
posted by Ricky @
9:49 PM