RickyRadio
Click a Fett For
a Special Message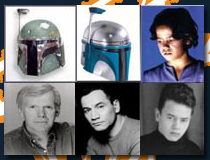 Links
Best Of My Website
Wednesday, June 08, 2005
Current Favorites:


Song: "Square One" - Coldplay
"Sooner or Later" - Breaking Benjamin

Movie: Revenge of the Sith

DVD I'm watching: Dick Tracy and Wonderboys. Dick Tracy is in the front room on the big screen, and Wonderboys is in the bedroom on the small tv. I saw Wonderboys once about 3 years ago, but I can't remember for the life of me how it ends.

Food: Boiled chicken with pasta seasoning, broccoli and rice. I'm really really trying to change my eating habits. A couple of Nicki's doctor friends said that after 21 days, your body loses the craving for sugar and other foods you're addicted to. So now I have 17 days to go.

Word: "Knucklehead"

Person: My wife. She gradjiates in 3 days. I'm so f-ing proud of her. No one knows how hard it's been for her to get through hell(Life West).

Video Game: ESPN Baseball 2k5

Shirt: The new dark green one I got from Target.

Line from a movie: Steve Zissou -"What are you doing here? I thought all you interns ran out on me."
Intern #1 - "I want to help you find that shark."
Steve Zissou - "God dammit. Thank ya intern, you're getting an A".
posted by Ricky @
6:25 PM