RickyRadio
Click a Fett For
a Special Message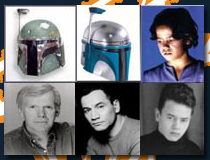 Links
Best Of My Website
Tuesday, June 21, 2005
I know I'm funny....


I've always been able to make people laugh. And ever since I could remember, I've daydreamed about doing a routine at amatuer night at a comedy club. It's just scary thinking about trying to make people laugh, and not being funny. Like, maybe my humor is only funny because people know me, and the jokes are "in" jokes. But, I think I'm going to do it. I have a lot of little funny things I've written down in the last year or so, and I think I'm going to work it into a routine.



Anyway, to the left on the radio, I've put my impersinations. So needless to say, there is no music right now. But there is; Pat Summerall, Sean Connery, the Atlanta Braves broadcaster, Milton from "Office Space", Watto, Eric Cartman, and Darth Vader. Enjoy.
posted by Ricky @
7:01 PM