RickyRadio
Click a Fett For
a Special Message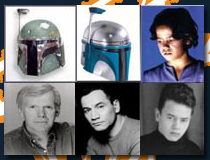 Links
Best Of My Website
Tuesday, June 28, 2005
If you needed me......


The past couple of days, I was on the set of the movie "

Return of Pink 5

".(Watch the first two here and here.) It was filmed in Felton, CA. See the photo slideshow of some of the pictures from the set by clicking "Play Flix" at the bottom of this post. I want to thank Ed Martinez for setting me up with the gig, and everyone I was able to work with on the movie. Nothing get's my blood pumping more than being on a movie set. And not only was it a movie, but a Star Wars movie! Hopefully soon, I will be able to make a living from making movies and tv shows, and only that. I was able to meet a few people who work in Los Angeles in the industry, and I'm hoping something more can come of that soon.



Final totals

: Henry Cowell Redwoods State Park various bugs bites: 14, Hours spent in Stormtrooper Armor over 2 days: 20, New bruises and pinched skin marks from those 20 hours: 8, New friends made: 10+, Free meals eaten: about 4, New lbs. put on: about 2, Dollars earned: 0, Experience gained and fun had: Infinite.

posted by Ricky @
10:42 PM