RickyRadio
Click a Fett For
a Special Message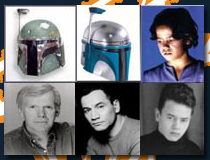 Links
Best Of My Website
Sunday, July 03, 2005
Movie

Review:

War of

the Worlds

:






Why it got 3.5 m&m's and not 5: I didn't like how Steven Spielberg wrapped everything up with a nice box and a bow-tie at the end. He did that the last time he worked with Tom Cruise too, on Minority Report. Listen, Steven, you don't need to have every aspect of the film turn out to be good in the end. Another reason it doesn't get 5 m&m's is because I felt like the movie peaked about 2/3 of the way through, during the ferry/basement sequence. I felt like the movie just flattened out after that point. Needless to say however, it was a good summer flick, and I will be buying it the first day it comes out on DVD.



The Good:

I loved how the the tripods sounded. It was very similar to Jango Fett's sonic charges in Attack of the Clones. And along with moving and looking very cool, I really liked how their frickin' laser beams turned everyone into dust. John Williams score was outstanding as usual, as he is the man.

The Bad: I didn't feel like there was enough alien stuff in the movie. I wanted to see more alien technology, and more of the actual aliens. The only time we saw them was in the basement, and that was only a few minutes. Also, it sure looked like everyone was incinerated on top of that mountain side right before Tom and Dakota found the basement, but apparently some people survived......

P.S. If all everything stopped working after all of those lightning strikes, then why was that guy able to videotape the tripod???

The Ugly:

The alien "fertilizer".



posted by Ricky @
1:22 PM