In 8th grade.....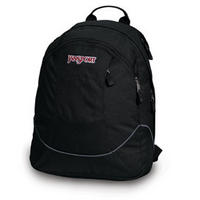 The day before the 2 week Christmas break, I was summoned to the principals office in the middle of Mrs. Cook-Kallio's U.S. History class. One never knows how long a trip to the principals office will take, but I must have thought it wasn't going to take that long, because I left my black Jansport backpack under my desk. By the time I got out of the principals office the next period had begun. So I went back to class to retreive my backpack. I walked in. Went to my desk. No backpack.
Mrs. Cook-Kallio must've been in on it, because she said she never saw anyone take it. Fast forward to the end of the day, and I still have no backpack.

So I begin my trek home, the same route I always went. Where what do I find in the creek with it's contents strewn all about? My backpack. Now when I say "contents strewn about" I mean just the junk. My books and other valuable stuff was gone. The perps even went as far as taking the little collection of pictures from my female friends and throwing them all over the creek.


It's almost as if this whole backpack incident was a calculated event. The perps came up with some B.S. story to get me called into the office, took my backpack, then destroyed it, leaving it where they knew I'd see it.


The reason I'm posting this is this:

I haven't forgot

. You know who you are. You can't cover something like this up forever. You're going to slip. And when you do, I'll be right there waiting.