RickyRadio
Click a Fett For
a Special Message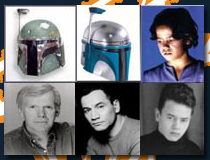 Links
Best Of My Website
Monday, November 28, 2005
Famous people I've met....


(Since my Uncle played for the 49ers and still works for the team, I'm not going to include anyone from the NFL. And, when I say "met" I mean shook hands with.)

Jim Carrey, John Voight, Shannon Elizabeth, M.C. Hammer, Evander Holyfield, George Lucas, John Madden, Pat Summerall, Jet Li, Gary Coleman, Tom Green, Danny Glover, Willie Ames, Kid N' Play, Patti LaBelle, Flava Flav, Da Brat, Coolio, Alan Autry, Point of Grace, Green Day, Kid Rock, Joe C, Ray Park(Darth Maul), Temuera Morrison(Jango Fett), David Prowse(Darth Vader), Jeremy Bullock(Boba Fett), Daniel Logan(Young Boba Fett), Peter Mayhew(Chewbacca), Jake Lloyd (Young Anakin Skywalker), Warwick Davis (Wicket, Willow), Billy Dee Williams(Lando Calrissian), Carrie Fisher, Jessica Simpson, Nick Lachey, Paul Oakenfold, Insane Clown Posse, and John Schneider (Bo Duke).

Not bad for a kid from Fremont California huh. It's not like I live in Hollywood.

posted by Ricky @
6:37 PM