RickyRadio
Click a Fett For
a Special Message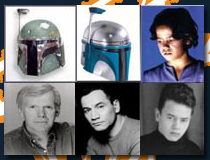 Links
Best Of My Website
Tuesday, January 10, 2006
For the record....

1. My eye hurts.
2. I think my face looks fat.
3. I'm still getting over being sick.
4. My daughter will be born in about 4 months from now.
5. I haven't watched a Star Wars movie since November
6. I won't ride horses or motorcycles
7. My cell phone number is 938-7878 and someone who has the number 978-3838 called me today on accident.
8. Lately I've been really thinking about really giving acting a real serious chance again, really.
9. I made a video for church that I LOL at everytime I watch it.
10. The last 3 times I put a picture of myself on hotornot.com they all ended up with 9.9 as the rating. The picture I put on last week is currently at a 9.3 after 200 votes. Not good.
11. I need to start working out again, but I hate waking up early and I hate working out even more than I hate waking up early.
12. I was mad at my friend today so I called him a bastard. His response to me was "How can I be a bastard when my dad is still alive?" So I went and murdered his dad then called him back and "Now you really are a bastard, bastard".

posted by Ricky @
9:06 PM