RickyRadio
Click a Fett For
a Special Message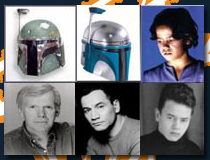 Links
Best Of My Website
Tuesday, January 31, 2006
I love Super Bowl week.

It seems that every channel has something about the Super Bowl on it. Although I would have liked to see the Colts in it, I'm still excited about the game. Pittsburgh and Seattle are the two best teams in the league right now, but I fear that the game could turn into a "control the clock" run the ball type game. But, I'm one of those guys that likes the commercials.

The only thing I don't like about this time of year, is that after Super Bowl week, the NFL plays perhaps the worst "game" of the year. The Pro Bowl. It's pathetic. No one tackles anyone, they do interviews on the sidelines every 10 seconds. It's unbearable.

And, I HATE the NBA.

posted by Ricky @
9:23 PM