RickyRadio
Click a Fett For
a Special Message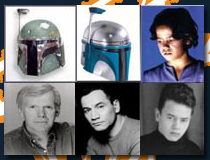 Links
Best Of My Website
Wednesday, June 14, 2006


Getting your car towed.......

My friend Jackson posted a story on his blog about his friend getting his car towed. His story unlocked the key to the very dark place I had stored this awful memory of mine. Read on.

San Francisco. 2002. I have to deliver one phone to a building on California Street. There is a parking garage 3 or 4 blocks away that charges $7 minimum. So I find a yellow/white "delivery" parking spot in front of the building. I put my hazards on, park there, run up the building, drop the phone off. I think I'm done. "Wait!" The receptionist says. "Can you help me change my greeting?" To which I reluctantly reply, "Sure". I'm not kidding, 5 minutes later I'm out the door and down the stairs and my car is gone.

Towed.

After figuring out my car was towed, I finally found a pole with a phone number on it. I call the number. "Yes we just towed your vehicle, you have to come pick it up on Bryant street."

"Are you fucking kidding me?" I say to the guy. "I was in the building no longer than 10 minutes!!!" (Remember, this was back in 2002 when I had a potty mouth)

So I walk down to Bryant street where I discover that in San Francisco, aka, HELL, it's $205 to get your car out of the lot, not to mention the ticket. So before I can pay the tow yard which is located under the freeway onramp, I have to walk another 4 blocks to the police station and pay my ticket.

Well, I wasn't prepared to shell out almost $250 that day, so I called my boss and told him I wasn't thrilled he sent me to drop off a phone when he dropped the ball by not delivering it to the customer on time. Fast forward 4 hours later after a lot of frustration, phone calls to bitch about my situation to anyone that answered their phone when I dialed them, and a quarter pounder with cheese, my boss shows up and gives me the cash to cover the towing.

I hate San Francisco. I wish an earthquake would level that god forsaken land. I avoid going to the city if at all possible, and so should you.

Oh, to meter maids, GET A REAL JOB. Karma is a bitch. Someday I hope you get towed. Yeah. Towed.

posted by Ricky @
9:38 PM