RickyRadio
Click a Fett For
a Special Message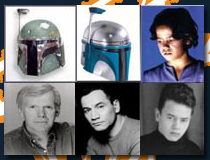 Links
Best Of My Website
Saturday, November 25, 2006
I have no voice...

Between the Thanksgiving Turkey Bowl, and the Prodigy concert last night, I've killed about 85% of my voice. If I whisper, it sounds fine, but once I try and say a sentence with more than 5 or 6 words in it, I sound like I'm 13 again.

About the Turkey Bowl. More importantly, about the flag football games I put together twice a month. I have an unenviable position. I organize all the games, and I'm in charge more or less of making sure that the mood of the game reflects that of our Church (Crossroads, my church, is the "sponsor" of our flag football games. At each game, we pray before the game, at halftime, and at the end. And at halftime I try to say something about my walk with Christ, and about Crossroads) so that all of us hot tempered guys don't turn it into something it shouldn't be. I enjoy putting on these games, and I enjoy playing in the games. So my unenviable position, especially on Thanksgiving, is that of trying to make everyone happy in terms of playing time. Most of the time we get about 20-25 people out there for a game, and since you have 11 people on the field for each team at one time, usually everyone plays offense

and

defense the entire game. On Thanksgiving however, we get about 50 people out there. And sure enough, every year, I start hearing it from people that they're upset because they don't feel like they're getting enough time to play, or they don't like the position they're playing. But when you only have 22 people allowed on the field at one time, and more than 20 people on the sideline waiting to get in,

you

have to take the responsibility for

yourself

to sub yourself in, and play the position you want. I can't be responsible for being your personal spokesperson. What really drives me crazy though, is that people that complain the most are the people that never or hardly play during the the other 10 to 12 games I organize during the year. So look, if you're reading this, and you play on Thanksgiving with us, just know that

that

particular game is always attended the best, and if you want a lot of playing time then you should make it out to some other games.

Now, about the Prodigy concert. I've never been to the Fillmore before. I thought I'd had, but I was remembering having seen the Crystal Method at the

Warfield

. The Fillmore only holds about 1000 people, and being one of the first people in line and subsequently one of the first people on the concert floor, I was in disbelief as to just how close to the stage I'd actually be. The concert started at 9pm with some DJ I'd never heard of. But he was actually really good, and the last 10 minutes of his set were the best

of

his set, so it completely got the crowd ready for Prodigy. When the lights finally went black, and the stage lights came on, the crowd went crazy. You have to understand that the Prodigy is based out of England, and they hardly ever tour the U.S. In fact, they are only playing two shows in the U.S. right now, and last night was one of them. It had been 9 years since they were in the U.S., so it was crazy-mad yo. They started their set off with "Wake the Fuck Up" which is a great song to get the crowd going. Being about 10 feet from the stage was completely nuts. The music was so loud, and everyone had so much energy for them that I can't remember being at a more energetic concert in my life. Not to mention the Prodigy is my favorite band. Anyway, they did about 20 songs, and ended up playing for a good 90 minutes. They put on an "awesome" show, and I was more than overwhelmed and happy at the end of it. I would pay $50 to see them once a week.

Freals

.

Cereally

. During the concert, as there is at every concert, there were a few drunk/stoned/on some sort of acid trip people that were really making it uncomfortable for Nicki and I, and another couple that next to us. Good thing for me, was that guy from the couple next to us was a pretty big guy, so we kind of had this unspoken bonding moment that if anyone was being a

nuisance

, he and I would toss them aside. So a few times he and I grabbed a couple guys that were being huge pains in the ass, and threw them as hard as we could into the mosh pit, or as far from us as possible. One guy got up and thought for a second that he was going to do something, but he ended up wising up really quick when he saw that it was

two

guys that threw his sorry ass. My overall experience last night, out of 10, would be a 17.

posted by Ricky @
10:07 AM