RickyRadio
Click a Fett For
a Special Message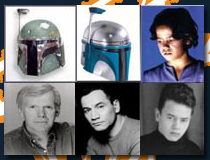 Links
Best Of My Website
Monday, March 12, 2007
I just got back from Arizona...(if you just want the COOL stuff, start at the 3rd paragraph)


Where I just spent the last two days covering the A's vs. Giants spring training game, followed by the Rich Harden and Justin Duchsherer Battle of the Bay MLB2K7 Home Run Derby to fight MD. Yeah, try saying that more than once. I was covering the event for www.gottgame.com, for which I do video game reviews for twice a month via video. I got into Arizona on Saturday afternoon, where it was almost 90 degrees, at 4pm, in the middle of March. I cannot

imagine

the intense heat they get there during the summer. I was already miserable in the dry 90 degree heat, let alone the 120 degrees it gets in the summer.

I stayed at (what I considered, but not Steve Masters, who I traveled with) a four-star hotel called the Mission Palms of Tempe. It was about 3 blocks away from ASU stadium, right in the heart of "College Town". There were bars, shops, restaurants, and just about everything else you could imagine a college town having, mere feet from my room. Saturday night was pretty crazy. It looked like New Orleans because a lot of the restaurants have a balcony, where people hang out and talk down to the people walking below. I ate at Gordon Biersch. Blah blah who cares. I'll get to the good stuff now. (I saw "300". It's good, not great. I didn't like how it ended.)

So anyway, Sunday morning Steve and I woke up and went to the A's vs. Giants spring training game. I did the thing where you throw the hardball to test your speed, and my top speed was 42mph. The machine was broken. Muscle bound meat heads were only throwing in the 50's. So I'm thinking it was about 20mph off. I'm okay with knowing I only throw 63 mph with my twig of an arm. That's fine with me. After the A's won, we went back to Gordon Biersch for the event.

Steve emceed the event, and I did all of the player interviews. Eric Chavez has been my favorite Oakland A for a long time, for multiple reasons. He wears number 3, (my favorite number) he bats left (as do I) and our birthdays are one day apart in the same year. So when he walked in I got excited. But since I was part of the "media" I couldn't go up and ask for a picture or an autograph right off the bat. (I did do both eventually). During the event I met and interviewed a ton of guys. The thing that struck me surprising, was how young these guys are. The A's are a young team, I know. But ALL of these guys looked like guys I could have went to high school with. It was really weird being face to face with them.

Nick Swisher, Eric Chavez, Rich Harden, Justin Duchsherer and Mark Ellis were my favorite interviews, in that order. Dan Haren couldn't have been less interested in anything, and a few of the guys were pretty hammered by the time they got around to the tournament. Brad Halsey even forgot he was a pitcher during our interview. Bobby Crosby (it is NO JOKE that this guy is Brad Pitt's clone. It was so weird that before I realized it

was

Bobby Crosby, I thought Brad Pitt had shown up) was there, but he didn't participate. He was kind of a jerk to be honest. He didn't talk to anyone except his wife and the other couple he came in with, and sat outside the entire time. At one point I asked him to do a slug for our website, and he flat out said "no". (All he would have had to have said was "Hi I'm Bobby Crosby and you're watching GottGame TV". Not very long at all.) Oh well, his loss. I'll remember that when I'm famous and he needs something.

Nick Swisher was definitely the life of the party. He has the same gift I do, and that's to make those around him that he' interacting with feeling like they've known him forever. He has ZERO smugness or arrogance about him, and actually stopped to talk to

me

a few times. He made my night. I interviewed him about 4 times I think, at various points during the Home Run derby. He was the only guy using

himself

in the derby. Everyone else was using David Ortiz or Ryan Howard or guys like that. I interviewed him and Mark Ellis right before the third round because they were going up against each other. Mark ended up beating Nick though.

After the derby was done, and the crowd started fanning out, Rich Harden, Justin Duchsherer, Nick Swisher, and a few other guys hung around. Nick was sitting alone outside so I didn't want to bother him. Rich Harden was just standing around doing nothing, so I started talking with him. We ended up talking for about a half hour about baseball, movies, video games and stuff like that. He's a cool guy. Kind of awkward, but very cool. One thing he said (maybe I'll write more about the conversations I had with these guys at a later time) was about how EVERY player on the A's hated/hates Ken Macha, and how happy they are that he's gone. He gave a few examples of things Ken did, and called him a few choice words, which coming from Rich was funny to hear because he really is a well mannered guy. He brought his sister with him for pete's sake.

After I was done talking to him I went back to where Nick Swisher, my best friend, was sitting. Two other guys (one of which was my cameraman) were sitting with him now. So I pulled up a chair and sat down for about an hour, just bs'ng with him and the other two college-aged guys that were there. Nick told a bunch of stories about baseball. About hitting his first home run, his first spring training, his first major injury, and some other stuff. He broke his thumb going up against Greg Maddux in early 2004, and played 5 more months with a broken thumb without telling any of the trainers. His story was hilarious. His story about his first injury was also really funny. He separated his shoulder in Seattle, and said it hurt so bad that he could not stop sweating. When he got carried off the field into the training room he said he only remembers 3 things. One, that the Seattle trainer looked like Rollie Fingers. Two, that because he was sweating so much, his pants were soaked, so he yelled "someone take my fucking pants off!", and 3, he told the Rollie Fingers guy "I don't care if you

are

a doctor, there's no way I'm going anywhere with

you

." (in reference to his mustache)

I left the event around 11:30. Who knows if I'll ever get a chance to sit down and BS with my favorite players from my favorite major league baseball team again. Once again (just like watching Star Wars with George Lucas, two years ago) I was presented with a once in a lifetime opportunity to spend some time with people I look up to and only get to see on TV. I got a free baseball glove from 2K sports, along with all 3 of their current video games out on the market, a free shirt, and a hat, at the end of the night. And since my glove was for someone who throws right handed, I had Eric Chavez, Nick Swisher, and Rich Harden sign it. I took a few pictures with some of those guys too. I loved every second of it, and I honestly know how blessed and lucky I am to continually get opportunities to do things like this. Oh yeah, Charles Thomas won the event, and got an IPod Video, a PS3 and a trophy. I was the first person to interview him after he won, and I had to explain to him what an IPod was.

I'll post some pictures up in a bit, and once I finish editing the video, I'll put that up too. But for now, it's good to be home with all 3 of my baby's.

posted by Ricky @
3:51 PM