RickyRadio
Click a Fett For
a Special Message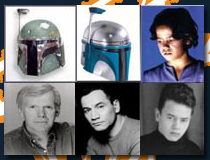 Links
Best Of My Website
Friday, April 13, 2007
Nicki is sick.

So I went into work an hour and a half late this morning because I took care of Kayla when she woke up, until she went down for her morning nap around 9am. I got to work around 9:30 and didn't hear from Nicki at all in the next couple of hours. So I started calling around 11:30 just to make sure everything was okay. No one answered. So I called sporadically over the next half hour, but nothing. Around 12:15 I started thinking that something could be wrong, so I raced home. To find Kayla still asleep, and Nicki just getting out of an hour-long shower. Not only does she still have morning sickness, but I think she has the flu too.

The cool thing about coming home for the rest of the day with Nicki being sick was that I got to take care of Kayla, ALL DAY. And let me tell you, that is

not

an easy job. I never once thought that staying home taking care of a baby was easy, but I

certainly

have a greater appreciation for it now. Kayla crawls all over the place. Over things, under things, around things, and through things. Everything she picks up goes in her mouth. She hates being left alone in a room. Shes tired of eating baby cereal, so everything she sees that isn't her cereal, she says "mmmmmmm". Obviously, because I am a pushover, we end up sharing a lot of food.

This video is for all the Mama's out there. Click play.

posted by Ricky @
6:55 PM