RickyRadio
Click a Fett For
a Special Message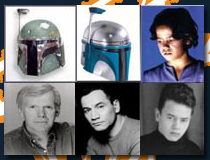 Links
Best Of My Website
Sunday, June 17, 2007
Earth is Gods MMORPG....

What

is

an MMORPG you ask? An MMORPG is defined as a

m

assively

m

ultiplayer

o

nline

r

oleplaying

g

ame. Think of it like the old board game Dungeons and Dragons that you heard so much about, long long ago. However now, with the internet, it's become possible for hundreds of thousands of people to play the same game at the same time, online. The point of

every

MMORPG is to build a character, give them certain attributes, and then begin your journey. MMORPG's have no ending, and you can play as long as you keep paying the $15 per month. It can take years for you to turn your created character into a force to be reckoned with. The game designers have made these games so that massive amounts of time are required before you can reach certain goals and levels. Another thing about MMORPG's is that if you create your character to be a warrior, you won't have the same skills and abilities as someone who created their character to be a blacksmith or wizard.

Are you seeing where I'm going with this? Lately I've been extremely frustrated with some of the things I

wasn't

created with. About a month ago in church, we had a good message (sermon) about God-given gifts and abilities. There was a lot said that was good for me to hear. Basically, I have my specific personality and skill sets for a reason. And the fact that I have a desire and passion to work in film and entertainment is from God. But like I said, I've also been frustrated that I wasn't blessed with some

other

skillsets.

Primarily, I have definitely not been blessed with the ability to make good money. My whole life I've pretty much lived check to check, and have made

just

enough to get by and provide for my family. I get pretty down on myself at times because of that fact. Despite some pretty high-profile jobs, I've never made over $50k a year. I'll be 30 in less than 6 months, and have only been promoted once in my life. Professional skills are just something I was not blessed with. Right now I am the lowest paid person at my job. The receptionist makes more than me. I'm the Webmaster and IT help desk. In the bay area alone, these jobs pay upwards of $60k. But for some reason, I am extremely below that. It's just always been like that for me.

However. At the same time, I am extremely grateful and thankful for the abilities and skills and blessings that

have

been given to me. I enjoy being able to talk to people and hitting it off right off the bat. I love my family. I am so blessed to have a daughter and one on the way. I know people who try for years to have a baby and it never happens for them. I know having children is far more of a blessing than being able to make a lot of money. But it

is

frustrating that I feel like I'm not giving my family everything they need and deserve.

I've praying overtime lately for a new job. (Yet again) I honestly feel like if I'm finally able to live my dream, in the film industry, that it won't matter how much money I'm making. Maybe I'm wrong. But I honestly feel that if I'm given the chance to live my dream, a lot of my frustration of making peanuts, sitting behind a desk all day will be gone. It's hard not only doing something I loathe, but the fact that I'm grossly underpaid on top of it makes it all the more harder.

And that's why Earth is God's MMORGP. He's given all of us certain abilities and skills, and we've all set out on journeys to "level up" and get better at those skills. I'm quite content with my gifts and abilities, I just want to be able to use them more than I'm able to right now in my life. If there was some sort of quest I could go on for a few hours that would result in a treasure chest of power ups and things like that, I'd do it in a heartbeat. Sometimes I wish life

was

more like an MMORPG.
posted by Ricky @
8:57 PM