RickyRadio
Click a Fett For
a Special Message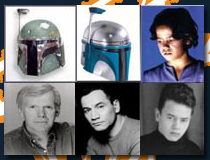 Links
Best Of My Website
Tuesday, July 10, 2007
I wish every day could be like yesterday.
(Lot's of Baseball and Home Run Derby stuff inside)

I don't even know where to begin, but here goes. Steve Masters called me over the weekend and asked if I wanted to cover an event with him for the All-Star game and Home Run Derby. Of course I said yes, so yesterday I went into work for a couple of hours and then left for SF.

The first thing we did was thing with superstar Mets 3rd baseman David Wright. He was scheduled to be at the Children's Hospital in San Francisco from 12 to 1. There were about 20 kids there who had undoubtedly been waiting weeks for this moment. (And by the way, I could write an entire blog on just how lucky I am to have such a healthy baby girl. I'm glad I get reminded of that from time to time. It's hard seeing kids like the ones in the hospital yesterday.) Anyway, time kept ticking away, and David didn't show until about 1:15. He came in with what looked like his agent and a PR person. I am not exaggerating when I say that he was there all of 4 minutes when his PR person shouted "okay kids, David has leave now, he has to get to his 2pm workout". The PR person said David was over an hour late because the press conference he was at ran late. I thought to myself "David is a grown man. He could have left the press conference a little earlier to be at the hospital on time, and he CERTAINLY could miss a 2pm workout". Not only did I feel bad for those kids state of being in the first place, but when David Wright only stayed for less than 5 minutes I wanted to cry for those kids. They were heart-broken. I'll stop here with this subject, as I have plenty more to say about it.

After the Childrens Hospital thing I went with Steve back to his office (which is also a rap music label) and Rappin 4'Tay was there. To make the story of a very awkward encounter short, Rappin 4'Tay asked Steve if he could borrow $50 because he was "a little short on some ends right now, but I got some things comin' up man that are going to pay the billz". Anyway. I felt bad for "Tay", as they called him. The guy had some major hits in the 90's and early 2000's. And now he looked like a bum and was asking to borrow $50. Thing was, he still had a ton of bling on. Go figure.

After Steve's office I ventured over to the Home Run Derby at SBC, Pac Bell, where the Giants play baseball, and watched the first two rounds of the home run derby (which was a LOT of fun )before I had to leave early to make the 2K sports "The Bigs" Home Run Derby at Ruby Skye. Thing was, I took BART into the city, so I had been walking the entire day to get around. I was a smelly little bastard. So I went into Walgreens, bought some baby wipes and deodorant, and gave myself a "whores bath". Do I need to explain?

So then I walked over to Ruby Skye, smelling good and feeling semi-fresh. Twins pitcher and 2006 Cy Young Winner Johan Santana, Twins First Baseman and 2006 AL MVP Justin Morneau, Tigers Pitcher Justin Verlander, Mets Shortstop Jose Reyes, and Alex Smith of the 49ers were just some of the athletes that were there for "The Bigs" Home Run Derby. Justin Morneau, who had come in 4th in the real home run derby just hours before, won "The Bigs" Home Run Derby, taking home a Nintendo Wii and some games.

I've been around football players my entire life. The past few months has been the first time in my life that I've ever been around baseball players. Compared to football players, baseball players look like skinny little nerds. Not that my physique is anything to boast about, but baseball players aren't that different from you or I. Except that they make millions of dollars and I sit at a desk all day for 6 cents an hour.

posted by Ricky @
10:19 AM