RickyRadio
Click a Fett For
a Special Message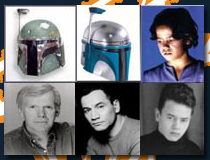 Links
Best Of My Website
Wednesday, September 26, 2007
Last night Kayla became my daughter...




(I've already shared the night that I became Kayla's dad)

Last night was a going away party at On The Border in Pleasanton, for a couple of co-workers of mine. It was a buy-your-own dinner kinda deal, so family members were invited since we all paid our own way. I was well into my first of two Margaritas when Nicki and Kayla arrived. So we all sat and ate and drank and were merry. The end.

But as people started trickling out and as the "hardcore" bunch of us stayed and played more, I thought to myself that it was pretty strange how no one had grabbed the mic and entertained anyone. Considering we were all the way in the back of the restaurant in the banquet room, I did just that. But as soon as I turned the thing on, Kayla ran over to me and looked up at me with those gorgeous blue eyes of her and put her hand out like "gimme that". So I did. The rest of what happened will stay with me for the rest of my life.

She took the microphone, placed it in front of her mouth as if she knew what to do, and said one of her unintelligible words. As if that wasn't cute enough, as soon as she heard her precious little voice resonate throughout the banquet room, she laughed harder than I've ever seen her laugh in her entire 16-month life. It was the cutest thing I have

ever

seen. She continued to put the mic to her mouth and laugh uncontrollably for about 15 minutes straight. It was a perfect life moment. And I fell even more in love with her than I could have ever imagined. She is my daughter. My precious little angel.

So today on my lunch break (payday!) I went to the store and bought her a little Karaoke machine. I can't wait to get home and hopefully relive the magic from last night. When I say "She became my daughter" what I mean is that I've always loved to be the center of attention and entertain people. And last night was a

definite

sign that she has some of my personality traits in her. At 16 months no less. Isn't that incredible? God is crazy. He's the man.

posted by Ricky @
2:09 PM