RickyRadio
Click a Fett For
a Special Message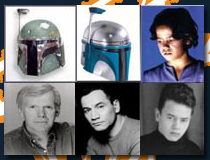 Links
Best Of My Website
Monday, December 17, 2007
It's officially official, we're moving to Sacramento...

I landed a job today. It's at a place called Goores. It's in Sacramento. It's like Babies R Us. I work in the back, in the

offices

, doing graphic design and IT stuff. I interviewed last week, and they called me today to offer me the job. I'm excited to work there, however I'm a little nervous that it might be a little too "9 to 5" if you know what I mean. I'm VERY happy to be doing

something

creative, with the graphic design portion. But if you've read my website in the past, you know that at a certain point in my tenure at Pump It Up, I was told I'd be moved out of IT entirely in order to be able to work more with my creativity. So I'm PRAYING that this new job will offer more chances to use my creativity and personality than Pump It Up did.

Pump It Up wasn't an entire waste of time. I grew a lot spiritually there, thanks to a few co-workers who are further along in their walk than I am. But I honestly have no idea what God wanted me to take from that job, other than that. And maybe it is

just that.

But man, were the 20 months I spent there arduous. I'm thankful for some of the friends I made while working there, but it was time to move on about 19 months ago.

Friday I have half a day of training at Goores. Then I don't officially start until January 7th. My last day at Pump It Up is December 31st, so that gives me exactly one week to tie up loose ends here in Fremont, finish packing the house, and then get the F outta dodge. Nicki and I are going to look at homes in Roseville (to rent) after my half day Friday.

This is probably the most well-written but at the same time most boring post I've ever done. But, that's kinda how I feel lately.

posted by Ricky @
7:33 PM