RickyRadio
Click a Fett For
a Special Message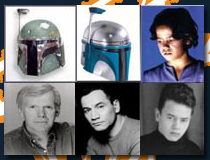 Links
Best Of My Website
Monday, December 03, 2007
My 30th Birthday Party...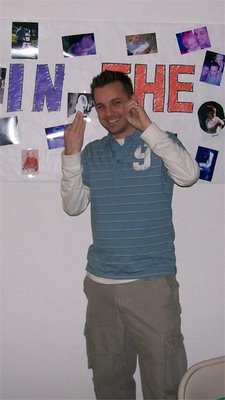 Here's what happened. I knew there was a dinner planned for my moms house at 5:30. That much I knew. What I didn't know, was who was coming. So as people started showing up, I was really surprised as to who was showing up. Wait, let me backtrack for a second. So Nicki and my mom have been UTLRA stressed about my party, basically going crazy and acting like it was Armageddon. And when I got to Manteca on Saturday night, Nicki called me and said "Stay in the car. Do NOT come in your moms house. We're still setting up." So I obliged. When I was finally let into the house some 20 minutes later, I have to be honest, I was

really

disappointed. There were a couple tables setup, and a few streamers. And I thought to myself "They've been going crazy and losing sleep over this?" But I played nice and said I really liked it and thanked them for all the efforts.

Anyway, people started showing up, and we finally had dinner around 6. Around 6:45 my mom said "A lot of people drove far (because she lives in Timbuktu) and have to get going, so lets cut the cake". I cut the cake, and we all had cake. By 7:10, people started saying good bye. I was really confused AND put off a little. I was thinking to myself "It's Saturday night, why in the hell do you have to leave at 7?" But I said bye and thank you to over 25 people that were leaving. After that, I was a tad (actually really) bummed. I felt sorry for myself. So I started opening all of my cards that people brought, and then my mom freaked out. She said "NOOOOOO! You have to open those later." So then a couple people said "Why don't we go to your brothers house (who lives two doors down from my mom) and play his Wii. I was like "Alright, whatever." But then quite a few more people said "Hey lets go to Danny's and play his Wii". So at that point I was becoming a tad suspicious because of the people that were saying it to me. So I started walking to my brother Danny's and looked behind me.

Nicki and a few other people had video cameras. At this point I figured there was something cool there (I was hoping it was my 65" TV!) I opened the door, and everyone that had "left" was at Danny's, plus a few more people. They turned my brothers house into a giant Casino/Video Game haven. There were about 40 people there and 4 TV's setup (none of which were mine sadly). We all drank and played video games and "gambled" till 2am. It was awesome. Best party ever. Sadly I didn't get a TV, but I did get a Playstation 3! All the food and drinks there were my favorite. Snickers. Doritos. Crackers and garlic/herb spread, Smirnoff Ice, naked women, a pin the tail on Darth Vader game, a giant poster that said "30 years in the making" with a bunch of pictures of me growing up, and some other stuff. It was great.

Best. Party. EvAr.

posted by Ricky @
10:15 AM