RickyRadio
Click a Fett For
a Special Message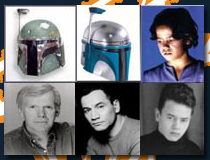 Links
Best Of My Website
Thursday, November 29, 2007
I got in trouble at work yesterday...

It's that time of year again. Time when offices around the world pass around "Holiday" (lets make sure we don't call them Christmas, as not to offend anyone k?) cards to send out to valued customers. You know the ones. They usually say something really forgetful and insincere like "Here's to a Happy Holiday season and a prosperous New Year. From everyone at FILL IN YOUR COMPANY NAME". Everyone in the office is asked to put their signature on the cards. Our office had 250 cards. Wednesday afternoon the cards were being passed around, and I was "feeling it". So instead of just putting my signature on the card I put a little something extra on over half of them. Things like:

Merry Easter
Happy Christmas
Please see me after class
Recycle this card
I just won the lottery!
Happy Holidays from all of us here at Southwest Airlines
I wish I had a stamp with my signature on it
Man my arm is really tired
Way to go!
This is blue ink
Abrob Ykcir
You make me so proud!
#215 out of 250
God Bless America!

I did about 150 unique phrases (on 150 different cards). Yesterday around 3pm I got called into my bosses office, and the CEO was sitting there with all of my cards. Immediately I thought "Oh great. They're firing me." I sat down and Deb, my boss, said "We know how you don't like long drawn out things, so we're going to keep this short. It was unanimously decided in the leadership meeting yesterday that A) they were not funny and B) they were inappropriate. We took another vote and decided that we're not going to make you pay for the 150 cards we have to re-order however."

Then the CEO gave me a speech that I'll probably never forget. He said "Don't take this as a put-down or a compliment. But you have a very child-like outlook on life. At 29 it's probably ok, but when you're 34 in 5 years you're going to have to play by the rules and blah blah blah". As soon as he said that, I was reminded of the bible verse in Mark chapter 10:14-15 which says, (Jesus speaking here) "Let the children come to me, do not hinder them, for to such belongs the Kingdom of God. Truly I say to you, whoever does not receive the Kingdom of God like a child shall not enter it". I was proud of myself for writing a little something extra on those cards, and I was REALLY careful not to be offensive or inappropriate. I told Deb and Gordon that my intentions were so, and they weren't malicious. After my explanation they both "got it" and no longer viewed my actions as malicious or having done it because I'm leaving here in a month. So at the end, everyone was on the same page.

So now they've rush ordered 150 new "Holiday" cards, and I have to go around and let everyone know how "sorry" I am that they have to sign them again. Well guess what? I'm not sorry. Where in hell has the Christmas spirit gone? Do you really think a franchisee getting that card would have been offended or thought less of it because I put a humorous phrase above my signature? Get over yourselves Pump It Up. You keep forgetting that our business is a CHILDREN'S BIRTHDAY PARTY PLACE. I can't wait to get the hell out of here.

Happy "Holidays" everyone.

posted by Ricky @
9:41 AM