RickyRadio
Click a Fett For
a Special Message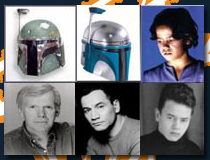 Links
Best Of My Website
Saturday, September 13, 2008
I will admit, I haven't watched baseball since the All-Star game...




Something about getting my hopes up EVERY single year only to have them be shattered again and again. The A's were doing pretty good this season before the All Star break. In fact, if I remember correctly, they were only 3 games out of first place a few days before the All Star game.

(By the way, I'm watching Iron Man on Blu Ray right now. Eat that.)

I knew going into the season that we didn't have a shot of winning the division. I knew that. But gal-dangit if the A's didn't play above their expectations and actually made me a serious believe for the first half of the season.

But then, true to Billy Beane form, right after the All-Star game, he started trading away our best players. AGAIN. And AGAIN, we started to lose a lot more games than we were winning. Rich Harden, gone. Joe Blanton, gone. There were a couple of other guys too that were let go or demoted. I'm done with baseball for good I think. Maybe when the A's move to Fremont and can actually afford to keep their good players I'll start watching again. But until then, I can't keep getting attached to these players only to have them get traded and stuff. My heart just can't take it.

Anyway, the reason for this post is because I just read an article on cnnsi.com about teams that "could play spoilers" for the playoffs. If you're not familiar with that term, let me explain. "Playing spoiler" means that your teams sucks hard, and the only way you're going to come out to the ballpark for the final few months of the season is because either A) You're a baseball die-hard and hate yourself, B) You forgot that football season started, C) You are writing a college thesis on bad baseball teams and need to research, D) Someone gave you free tickets. "Playing spoiler" means that your team, which has no chance of making the playoffs, is going to be playing some playoff bound teams, and if your team wins, it could possibly knock those potential playoff bound teams out of the playoffs. I am REALLY sick of that being the theme and strategy to get people to support their teams at the end of the year.

I have no suggestions on what baseball could do in order to fix this. I am merely tired of that being the A's end of the season story, with the exception of a couple years ago when they made the playoffs. The NFL season has a much more exciting season, because they only play 16 games and every game really counts. Even if the 49ers suck again this year, I'll still watch because the season is so short and every game is so crucial.

If you want to read a much funnier article about why baseball sucks, click here. It's a short read.
posted by Ricky @
10:42 PM