RickyRadio
Click a Fett For
a Special Message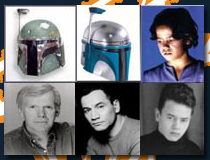 Links
Best Of My Website
Friday, October 31, 2008
I turned in my application today...



Application for what, you ask? My application to go on a mission trip to Africa this summer. I know I know. I never thought I'd go on a mission either, but when I heard and saw the presentation a few weeks ago, I was so moved by it, that it literally brought me to tears. It's a 3 week mission, and I'm going to need to raise about $3000 in order to be able to go, but I really feel called to do this and know that it won't be a problem.

Now I have to go find my passport, get about 2356 shots, start working out, eating right, mastering martial arts, vote on Tuesday, shampoo my carpets, finish that novel I started, learn how to spontaneously combust, find an alternative to oxygen and learn the calypso.

After I get those few things done, I'll be ready.
posted by Ricky @
2:02 PM