RickyRadio
Click a Fett For
a Special Message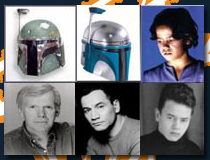 Links
Best Of My Website
Monday, October 13, 2008
Minimega Update



Hi everyone. From what I gather, there are about 60 of you that read this website daily. That makes me happy. Like a kid in a candy store with an empty bag. I'm also just happy in general lately. I told a friend of mine a few weeks ago that I don't think I've ever been happier than I am right now. Things are good.

School is such an incredible gift. I'm learning a ton, every day. I appreciate school this time around. When I had just graduated high school and went to junior college, I felt like I just went to high school 2.0. I just did it because everyone else did. And then when I went to art school about 5 years ago, it was apparent that I was not going to have a successful career in that field. Now that I'm 30, with two kids and a little more mature, (I said

a little

) I think I'm more appreciative of school. I don't sit in class and play on the internet like 85% of the other people do, I don't bitch and moan when I get a test back and It's a "B" instead of an "A", and I don't get complain about homework and classwork. I'm trying to look at school as a way to

learn

, not just a bunch of work to hurry and get through so I can graduate.

Brielle's 1st birthday was Sunday. We had the party Saturday. It's crazy to think that that little baby was born a year ago with Jaundice, making Nicki and I worried and upset for 5 days. Now, she's earned the nickname "Danger Baby". She climbs on EVERYTHING, gets into EVERYTHING, puts EVERYTHING in her mouth, and generally does an excellent job at doing the exact opposite of what you would consider

safe

for a 1 year old. For Halloween Kayla is going to be Ariel, and Nicki is making Brielle a superhero costume. DANGER BABY.

Despite having Thursday and Friday off from school last week, I feel like I had an extremely busy and unrelaxing time. I wrote two 7 page term papers, took a take-home midterm test, and helped put together Brielle's party on Saturday. Sunday we all woke up early at my moms, went to a gigantic pumpkin patch/theme park for 3 hours, then I went and had Carls Jr. with my dear/close/dare I say amazing/wonderful friend Dana Clemens. It was nice to see her. She lives in Long Beach, so we only see each other about twice a year, if that. I had a Western Bacon burger, she had a Famous Star. It was nice. The three of us. Oh what? You didn't realize that Bonnie the cashier was totally infatuated with us? It took us twice as long to answer all of her questions than it did to order. Here's a snippet:

Bonnie: Will this be for here or to go?

Me(looking at Dana): Um, here? (Dana nods) Here please.

Bonnie: That's weird.

Me: ......

Bonnie: Where are you guys from?(I then explain that Dana is from down south, and I'm from Sacramento. In retrospect, this probably really confused Bonnie)

Bonnie: So are you driving down there today? (To the both of us)

Me: No, she's leaving for Long Beach right after we're done eating, and I'll be heading back to Sacramento.

Bonnie then gave us a look of bewilderment/disapproval. After about 7 seconds of that, she just turned around and walked away. Seriously.

My flag football team ended up going 0-7. We played with a lot of heart though. (Ok, not all the time, and not everyone at all times.) I was going to sign up for the new season, but a few key guys called and said they weren't going to be able to play this time out. So I decided to wait until the next season starts, sometime in January I believe. I had a lot of fun. It was well worth the $45 and the frustration that followed.

I'm marrying some good friends of ours in two weeks. I'm excited. Should be fun. I've been given their blessing to "be myself" and "make it fun". I just might show up to marry them in full on scuba gear.
posted by Ricky @
1:59 PM