RickyRadio
Click a Fett For
a Special Message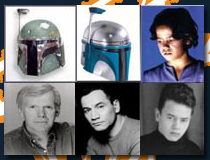 Links
Best Of My Website
Thursday, March 09, 2006
okay..



how does william hurt get nominated for a an oscar for best supporting actor when his role was only 10 minutes? literally 10 minutes! i just watched a history of violence, and i looked at the timecode when he has his first scene. 1h17m into the movie. his finale scene is at 1h27m. thats ridiculous. why in the hell am i even trying to become an actor? this is ridiculous. i watch movies, tv shows, see the actors and actresses. there is no doubt in my mind that i am just as talented as they are. there is absolutely positively no doubt in my mind i would be a shining star amongst shining stars. what the hell is the secret to breaking into that business? i tell nicki all the time that if there was a college program i could go to for 4 years and at the end when i graduate be guaranteed to make a living as an actor, i would do it in a heartbeat. unfortunately that's not how this business works. you have to get lucky. you have to be discovered. i walked into the gamer nation audition and beat out 100's of people auditioning. i know that i know that i know this is my calling. im 28. when is it going to happen. im tired of searching craigslist, monster, hotjobs, greenlightjobs, bayeareahelpwanted, bayareaclassifieds, and all of the other job websites everyday. even if i did land one of those jobs, it's not my passion. it's a temporary fill in. sometimes i get really frustrated that this is my passion. sometimes i wish i was okay with sitting behind a desk all day, or working in sales, or installing phone systems. but im not. ive tried everything in terms of jobs. ive literally (yes im aware thats the second time ive used that word in this post) had more than 20 jobs since turning 16. the only thing that ive EVER felt at home with is entertaining people. whether it be in front of the camera, behind it, editing, producing, whatever. if what im doing for a living involves making peoples day a little lighter and brighter, then i feel like ive accomplished something. what a catch 22. i love my passion, but its so damn hard to make a living doing it. im smart, i could go out tomorrow and hit the books and make 6 figures doing mortgage loans or as a sales rep. but id be miserable everyday. i just want one chance. one opportunity to show the world that i was born to entertain. im 28. baby on the way. im ready god. please. im asking you. william hurt gets an oscar nomination for 10 minutes of screen time. i would PAY to have 10 minutes of screen time in an actual movie.

i feel like i could write for days right now. it's 12:42 am and im full of piss and vinegar. what makes my passion even worse is that in order to get noticed and discovered, you basically have to be willing to sell your soul in order to do so. well, im sick of doing that. ive done a good job of selling myself and not standing up for what i believe in for too long. i just want to make movies. i dream about it. i get excited about it. and its not because of the money or fame. if it was, i wouldnt be making videos for my church or acting in indie films that dont pay but require me to spend an entire day on the set waiting for my scene. i do it because i love it.

i don't think you understand that.

im jealous of every single one of you who've known what they have wanted to be since they were little. in fact, im very jealous of you. because most likely, you were able to go down a path via schooling and various jobs that prepped and prepared you for the career you chose. acting and producing is not like that. you cant just get your degree from film school and get hired to make films. it doesn't work like that. there are so many talented people out there that never get a chance to make a living from their passion because this business is such that there are just a few people who get consistent work and make the majority of all of the money.

between sitting at my desk and looking for a job today, i cleaned my house. and while i was cleaning, this dawned on me: practically every business has a mentoring or entry level program or position. you want to be an electrician? great, go be an apprentice with someone. you want to teach? great, go to school and substitute in the meantime. you want to act? too bad. you can't get a "small" role and work your way up. it doesn't work like that. but how great would it be if george clooney or any other top tier actor took someone like me, a person with a passion and fire in their blood for this business, and took them under their wing. and by doing that, they took them and let them have a small role in one of their films, to get their names out there. what if i got to "go to work" with al pacino and learn the business. or stand behind steven spielberg while he stands behind the camera and just take notes. thats how it should be! and while im thinking about it, another thing that makes it really tough about this business is that there is really only one city you can live in in order to make a name for yourself and make a living acting. and it's not fremont. if you want to become a fireman you can do that in any city. waiter? check. truck driver? check. actor? not really. move to los angeles.

like i said, i could go on for hours. im just trying to convey to you that im ready. you know that thing inside of you that when you think of, it ignites something karnal? for me, thats acting and producing. im 28. ive tried to surpress it. ive tried to bury it. it wont. everytime i try to do something else, it calls out to me and becomes even more of a desire. that's just how it is for me.
posted by Ricky @
12:31 AM