RickyRadio
Click a Fett For
a Special Message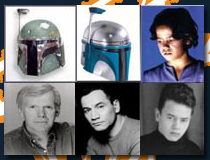 Links
Best Of My Website
Friday, March 03, 2006
It's 10:30 Friday night and I'm still sick....

I'm going to watch Fight Club now. Maybe fall asleep on the couch. Also, I loaded some cheats onto my modded XBOX today and whizzed through Ninja Gaiden Black on hard mode and Fight Night Round 3. Then I watched Jar Head. Okay movie, I just don't think it knew what kind of movie it wanted to be....drama, psychological, "based on a true story" or whatever. It was okay in all of those categories. Oh, I watched My Name is Earl for the second time last night. Really funny show. There are 17 episodes, so I have a lot of downloading to do.

I want you to hit me, as hard as you can.

posted by Ricky @
10:27 PM