RickyRadio
Click a Fett For
a Special Message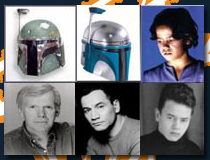 Links
Best Of My Website
Friday, October 05, 2007
Doctors are going to give Nicki some drugs in order to get Brielle to come out next Thursday. Or you could read that as "We're going to induce labor on Thursday".

Nicki went to the doctor yesterday and is still dilated to one, and Brielle is still in the same position she was in two weeks ago. So unless she decides to come on her own before Thursday, that's the day we're going to induce. The doctor wanted to schedule an appointment to "break the membrane" on Monday, but I was like, "Hey wait a minute. The membrane is probably there for a reason, and we're not in a rush, so we'll be keeping our membrane, thanks." Besides, the way the woman at my office described it, it sounds like a torturing method more than anything else. She said (I'm paraphrasing here a little) "The doctor basically sticks his hands up your wifes vag, and run circles around the placenta in order to break the membrane and get the process going." After thinking about it, the thought of Nicki sitting there with someones hands all up in her vajayjay, rubbing in a circular motion around the uterus, doesn't sound like fun. No membrane breakage for us.

In other news, here's an IQ test that I got a 136 on. You should take it.

Here's proof of my score in case you think I'm a liar.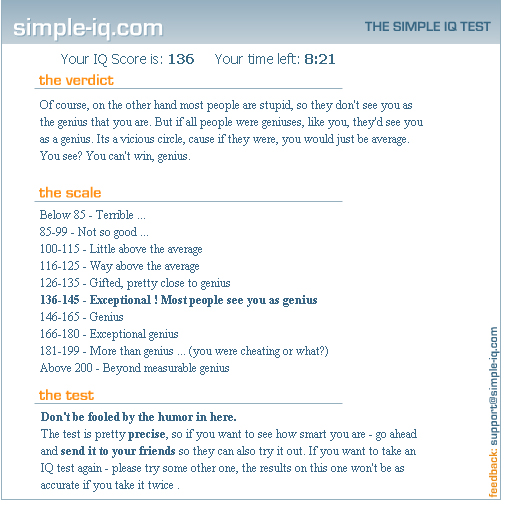 See how it says "most people see you as genius". I think the people who decide NOT TO recognize me as a genius are just jealous that they got a lower score than I did. Either that, or they're ugly. And we all know God hates ugly.

Also, I'd like to start implementing something. Adding "fest '07" at the end of your phrases is hilarious. And I for one am going to start using it all the time. For example, instead of saying "Work sucked today", I'll be saying "It was suckfest '07 at work today". You could also use it in other scenarios, such as "Dinner was gourmetfest '07 tonight", or "My underarms are stinkfest '07 right now".

posted by Ricky @
9:25 AM