RickyRadio
Click a Fett For
a Special Message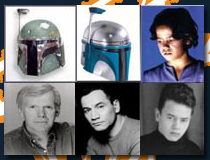 Links
Best Of My Website
Monday, October 01, 2007
I'm super exhausted right now. I might not even remember posting this later...

Here are some things I want:

1.

A home workout gym.

I just don't have the time for driving to the gym before or after work. If we didn't have kids it'd be different, because I wouldn't feel bad about going after work. But the #1 thing I look forward to in my day is two fold. First, I look forward to 5 o'clock like a drug addict looks forward to their next fix. And secondly and more importantly, I look forward to about 5:27pm. That's about the time I get home. I love seeing Kayla's reaction when I walk in the door.

2.

A new job.

I hate this job. With a passion. For multiple reasons. First, because the actual job sucks. Information Technology. It sucks. It's boring. It has zero creativity to it. I'm also not that big a fan of most of our franchisees. They complain a lot and have a "I'm the only person in existence" attitude. Another thing that's unappealing about this type of work is that sitting at a desk all day makes you gain weight. This is the most I've ever weighed in my life. I need to move around. I probably burn 3 calories a day sitting here.

3.

To move.

I can't wait to get out of the bay area and start fresh. It's going to be nice when Nicki is working, and I'm not responsible for earning every single penny we bring in. I never wents to college, so I's don't makes a tons of money. So as soon as Nicki starts working, I'll be able to start doing the things that I'm passionate about, as my work. Namely, making films, editing, acting, and stuff like that. Plus, being closer to family and in a city in which we can afford to live in will be nice too. It's really hard to stay above water here in the bay area. Especially on my $50k a year. Of which I earn by doing 3 jobs.

4.

The 49ers offense to get going.

Their defense is playing great. But their defense is on the field too much because the offense completely sucks. I've decided I'm not a fan of Alex Smith. He's done nothing in his 3 years to excite me. Tony Romo is in his 10th start or something like that, and he looks like an all-pro. There are plenty of other new QB's that look a lot better than Alex Smith too. He just doesn't have "it" in my opinion. We should be 0-4 right now. We're very lucky to be 2-2. But at least we weren't expected to be great this year anyway. I'd hate to be an Eagles, Rams, Chargers or Saints fan right now. Yikes. Awkward.

5.

Brielle.

If this little girl doesn't decide to come soon, I'm going to reach up there and pull her out myself.

Take this test. I got 7 wrong.



posted by Ricky @
10:52 AM