RickyRadio
Click a Fett For
a Special Message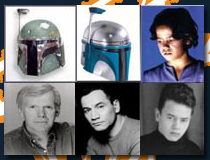 Links
Best Of My Website
Monday, October 08, 2007
Two Headlines:





1. Ray Lewis almost killed me yesterday.


2. I almost got thrown out of the stadium yesterday.

Flashback 10 years ago. I was a wide-eyed 19 year-old kid, trying to make my way in the world by interning at KTVU channel 2. It was January. The 49ers were one win away from their 6th Super Bowl appearance. When I showed up at channel 2 that day, I was told to grab the rain gear and go with Steve (a cameraman at Channel 2) and be his assistant on the sideline for the NFC Championship game. The job of an assistant is easy. When an exciting has taken place, your job is to write down the actual time of day, and also the timecode of the camera. Simple. Easy. It should also be noted that when you get to "work" the sidelines of a game, you not only get the standard press pass that I've mentioned in the past, but you also get a shoulder pauldron and a "press jersey". You are CLEARLY marked, so the sideline security team knows you're legit.

Looking young has been a blessing to me 99.99% of my life. Except that day. One of the 49er sideline security people is named Dee. She is a beast of a woman. She stands about 5'5", dark hair, hairy mole on her upper lip, and has a slight hunch in her back. She is the epitome of evil. That day 10 years ago Steve had asked me to RUN back to his camera bag and get a new battery for his camera. So I did just that. I ran to the Giants dugout (Don't get confused now. The 49ers play where the Giants used to. And all of the press keep their stuff in the old Giants dugout). As I was running to the dugout, fully credentialed and in my "jersey", Dee stopped me and asked me what I was doing. I explained that I was working for channel 2 and that I was getting a new battery for the camera man. Dee told me that I didn't belong on the sidelines, and that I needed to leave the field immediately. Long story short, she threw me off the field. I think I found a seat in the stands and watched the rest of the game from there. I

think

. I was so traumatized that I don't really remember anymore.

Now fast forward to yesterday. I'm standing on the sidelines fully credentialed AGAIN. (Minus the "jersey", because I wasn't "working" the sidelines) I was standing by the visiting team tunnel, waiting for some of the Baltimore Ravens to come out so I could snap some pictures of them. Which by the way, is perfectly acceptable and allowed. I REALLY wanted to get a picture of Ray Lewis, the all-pro linebacker and murderer. I stood off to the side with my camera out, and as soon as Ray came out of the tunnel he spotted me. So he RAN over to me, JUMPED in front of my camera and screamed "WOOOOOOOOOOOOOOOOOOOOOOOOOOOO!". I thought he was going to stab me. I clicked the camera to take the picture but I was so nervous/excited/scared I was going to be stabbed, that I didn't hold the button down long enough, and I didn't get the picture. Ray Lewis jumped in front of my camera to give me the picture of a lifetime, and I blew it.

So guess who came over to me right after Ray Lewis ran by me. My old friend Dee. The sideline security nazi. She grabbed my be the arm and said "That's it you're outta here." And before I could even process what was happening, I was having flashbacks of 1998 when she threw me out the the last time. So I stopped walking and said "Wait, what's going on right now?" She said "You ran in front of a player to take his picture. I'm escorting you off the field". I said "No I didn't, Ray Lewis came over to ME. I was standing in place. Ask anyone that was around me. Look at my credentials, I have a right to take pictures." So she looked at my pass and said "Fine, but you better not do that again. And you should be in the press box anyway." Which is BS by the way. You're allowed to be on the field until KICKOFF. We were a good 20 minutes away from kickoff. She was just being a succubus. In 10 years, the woman has only become more evil. I was just glad she decided to leave me alone after I explained it to her.

Anyway, I didn't get the picture of Ray Lewis I wanted, but I did get this one. Murderer.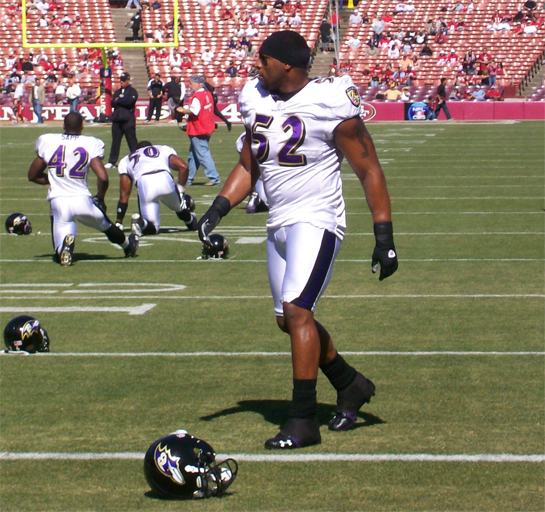 posted by Ricky @
9:09 AM