RickyRadio
Click a Fett For
a Special Message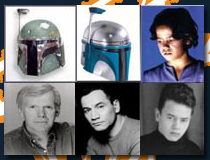 Links
Best Of My Website
Friday, November 16, 2007
23 things about yours truly:


I've always wanted a tattoo but never could decide on something. Dueling lightsabers seems to be the one thing I never completely rule out. We'll see.

I trust people to a fault, and I don't have a backbone when it comes to standing up to people. I usually let them walk all over me because I hate hurting people. I'd rather let them act like a jerk then I talk smack about them. I need to be more assertive.

I REALLY want a boy before it's all said and done, but I can't imagine a life without my two girls. Kayla is so precious to me. She loves me so much and I want to eat her. Brielle is so tiny and precious that it makes me smile when I think about her.

I like to spend money. I don't have any credit cards, but I like to buy cool stuff. Mostly DVD's and video games (sometimes, those things are expensive).

I can't wait for Nicki to start working so I can really focus on acting and editing. I miss it.

Chicken Parm is probably my favorite meal.

I think women are beautiful.

I love my family(Entire extended). I wouldn't want to be in any other family on Earth.

My parents split when I was 16. I don't remember being 16 or 17. I went through some really tough stuff during those two years, so I'm glad God has blocked it out of my memory.

I am the SLOWEST runner you'll ever meet. I couldn't run fast if my life depended on it. I just can't run fast. Or jump high. At all.

I'm a really accurate QB. I've played flag football twice a month (From September to February) for the last 6 years. Since I can't run or jump, I've become quite the QB.

I'm left handed. I write left handed. Throw left handed. BUT, I kick right footed. BUT, I shoot a handgun left handed and a sniper rifle right handed.

I often fantasize about being a Hitman. Seriously.

I used to write raps in 7th and 8th grade under the name MC Smooth.

When I was 15 the housecleaning ladies caught me masturbating. It was mortifying.

I have no desire to travel the world. I like being a homebody.

I've never done a drug or smoked a cigarette.

It is better to have loved and lost than to never have loved at all.

If beauty is in the eye of the beholder, then I must have held many things. (That's ALL mine. 10th grade. I wrote it myself)

I love the smell of the first rain.

I like the smell of a skunk.

I HATE smelling like food. On my clothes, hands or anything else.

I wish I knew Morgan Freeman. He seems like a cool guy.
posted by Ricky @
4:26 PM