RickyRadio
Click a Fett For
a Special Message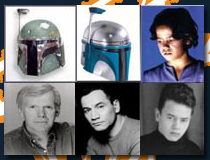 Links
Best Of My Website
Monday, November 05, 2007
Two random thoughts. Completely unrelated.

Today my friend Jackson blogged about the new google phone. One of his points was that he currently has to jump through various hurdles to sync his calendar on his current cell phone and that it's a huge hassle. So I wrote this to him, "I often think of this when I myself start complaining about doing various computer related tasks, so when you said "I have to jump through various hurdles to sync my calendar.." I thought of it again:

Think about how LAZY we all are. Seriously. Way back in the day, guys used to have to build RAILROADS and SKYSCRAPERS, and travel across the country by mule and stuff like that. I complain about having to reorganize the icons on my desktop, and having to organize my mp3's. Something is wrong with us Jackson."

My other random thought is about sports. Yes, bay area sports suck royal ass now. The 49ers are 2-6 and haven't won a Super bowl in 13 years. The Raiders are 2-6 and haven't won a Super Bowl since the mid 80's. The A's and Giants both sucked this year and both of them haven't won a World Series in ages. (The A's have a more recent Championship. The Giants just flat out suck.) The Sharks have never won a Championship after being in the league 16 years. The Warriors haven't won a Championship since they've been in Oakland. Yes. The state of bay area sports is in peril. But here's my point:

WHO CARES!

Yeah, it would have been sweet if one of our teams would have won a Championship recently, but don't you get more out of the week to week games rather than anything else? Alex Smith SUCKS HARD, but I STILL watch every snap of every 49er game because of how exciting it is to see a great catch, run or hit. The baseball season is 6 months long, but it's just as fun to watch the regular season games because you can really follow the players and stats. My point is that it's not only fun watching and rooting for your favorite team when/if they make the playoffs, but it's just as fun following them for the season. The season is where the storylines are. It's fun to sit around on a Sunday with friends and smack talk all day about how your team is better than theirs. Sports in general are fun. And just because the bay area can't put together ONE winning program out of the 6 major-league level teams, doesn't mean we should be sad about it. It's fun to follow your team, even if they suck.

posted by Ricky @
5:56 PM