RickyRadio
Click a Fett For
a Special Message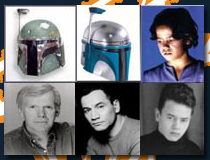 Links
Best Of My Website
Wednesday, November 21, 2007
Taco Bell story update:

John, the district manager for Taco Bell in my area just called to inform me that Gabrial, the confrontational Taco Bell cash register psychopath, has been fired. John told me that "The Taco Bell standard of excellence was definitely not met, and that the company has no place for a person of that character." He was let go shortly after I called the hotline, but John had been busy and forgot to call me to let me know.

Take that Gabrial! Good luck on finding another job that will pay you $6.75 an hour, sucker!

posted by Ricky @
4:14 PM